Seriously, CRKT makes a HELL of a knife. The Boss today asked me to put a new edge on her Gekkota as it had gone dull and had a few patches of rust from exposure to sea water during a dive trip.
Thought I'd take a group photos of the Gekkotas in my house: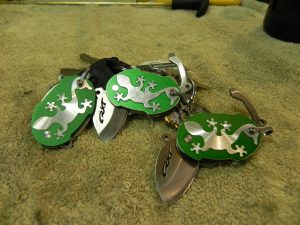 So on the left is the Wife's that's seen some keychain use, but overall its received light duty, and has spent a good deal of time on the shelf.
The middle is mine that I've had for over a year-and-a-half where its ridden in my pocket with my keys every damn day. The left is the Boss' knife after I cleaned it up and tossed a fresh edge on the blade.
Honestly there is so little difference between these three knives. One is practically brand new, one had been bouncing with my keys for over a year, and one has been used hard (I got pissed seeing the Boss opening her boxes with her keys, and she wasn't interested in carrying a proper pocket knife, so this is her ONLY knife, and it gets used almost as often as my EDC knife gets used) and had some exposure to seawater.
Can hardly tell the difference between the three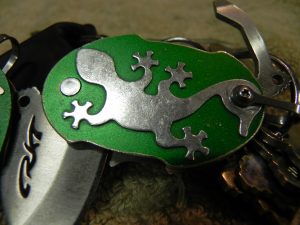 Go ahead and click that to get the full rez. Does that look like a knife that's been bouncing against my keys for 1.5 years?
They put some crazy Devil Magic in these knives!