I love mouse guns! Its a dismal and cold day today so I'm carrying a 1911 under my flannel shirt, but often this time of year I prefer to pocket carry. Its also convenient for days when you might need to take off your shirt for whatever reason.
Also given that small guns are light, and easily concealable, there's an option for everybody! I like this because you should be carrying every day and all the time because you never know.
Uncle links this neat PDF of various popular Mouse guns on the market today.
There is almost too much information there! Its AWESOME! Still what's neat was as I trundled my way down the list from the Seecamp .32 to the "Fullsize" pistol calibers in 9mm .40 and .45 I suddenly started noting how "HUGE" those guns were getting as they stuffed a stouter and stouter load in them.
Then I noticed the size reference. Of course they have a 5″ 1911 which is bigger than most "Fullsize" guns like the Glock 17 or the Sig P226 or P220 which just dwarfs these little guns. (I wonder if I can stuff a Seecamp into the magazine of my 1911 and have a 1911 that shoots Seecamps! TAKE THAT!) But then look at the other ref-gun. A S&W 360 AKA "The Snubbie From Hell".
This got me thinking. Of the various small guns I own the S&W J-Frame is my go-to-gun.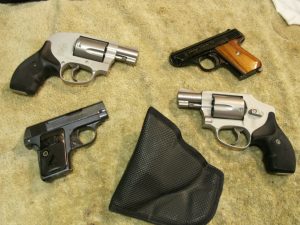 Also how easily it can be safety loaded and unloaded its a must-have IMHO for anybody who's serious about conceal carry. If you need to clear it for safety reasons just pop the cylinder open and dump the shells out. To reload just repeat. Also this doesn't put any stress on the cartridges so round-setback isn't even relevant to revolver cartridges. Its also light-enough to just drop into a pocket (preferably in a pocket holster but in a pinch the heavy trigger should keep the gun safe if you aren't traveling far) which is ideal for late-night, unexpected errands. You wonder how many people have gone to the drugstore late at night for some medication, or gone to the convenience store for a pack of smokes only to walk into a robbery….or encounter something violent to or from. With a small revolver there is no excuse to not carry.
But that little package comes with a price they do indeed totally suck to shoot! That long, heavy, trigger pull can be tiresome and hinder accuracy, small sights are hard to see, and the recoil feels like you did something wrong. Something VERY wrong if your snubbie is in .357 and has an alloy frame!
One must not oversimplify things. A big powerful gun that is easy to shoot may be a great choice in a gunfight…but it might not be something you're willing to carry all the time. A micro-gun might be easy to carry, but difficult to shoot well, and offer minimal power. Some of the small guns built for more power might have all the advantages and disadvantages of the small .32, .25s, and .22s on the market, but add in a punishing recoil into the mix.
Go back to the chart and only look at the red fingers drawn on all the guns. Those neato Seecamps really only give enough room to wrap your middle finger around the grip in a shooting grasp. In .380, even with the heavy stainless frame for a gun that size its going to want to twist out of your hand like an angry snake. Certainly if you have a good grip and some decent hand strenth that can be overcome, that will be an obstacle. Guns like the Kahr .380 or the Ruger LCP give you a little more grip (tho not much) but also have a lightweight polymer frame. That makes for difficult shooting as well. The list goes on.
Personally I don't like pocket guns too much bigger or smaller than my J-frame just because I bought a small gun for a reason, but also I don't want a gun that's smaller than my needs because that will only add to the difficulty shooting it if I need to.
Really all that is just to say something we already knew. Carry the biggest gun you can because you just might need it…but understand that some days the biggest gun you can carry might not be much gun at all!
Be safe people, and Carry your guns!