So you might have seen this shirt here, that's the Endo Apparel line of shirts from Everyday No Days Off
I got one too!

I also picked the fire selector shirt, because A) It was Cool, and B) We don't see much of the California Flag on the East coast.
I dig the design as any gunnie will recognize the image, but most antis will probably be totally baffled.
The Shirt is lightweight, and as others have said VERY soft. Also its a nice fit. Mine is an XL and it fits perfectly and runs a little long in the waist which is better than a little short. Sofar I love it!
Also, it has a neat little tag on the hemline: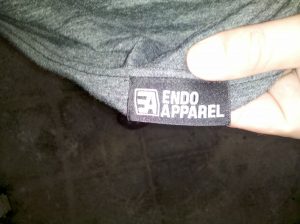 Cool stuff!