Unfortunately I woke up with a splitting sinus headache. I'll be attending to it with rest and medicine, and if I feel a bit perked up later in the day I'll make a trip to Starbucks.
Still if have a blog where you post pictures or talk about your pro-Second Amendment day at Starbucks post a link here. Also if you have a photo you'd like me to host email it to weerdbeard (AT) Gmail (DOT)com with "Starbucks" in the subject line.
Also for the LOLz Les Submitted the Offical CSGV carry rig for Starbucks Day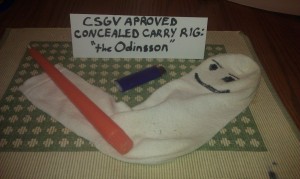 Carry more than just a candle and a tube sock! And have a great day in the greatest country in The World!