So I found this on twitter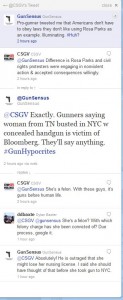 Ladd does have a point. The Black Civil rights marchers indeed took beatings, dog attacks, riot hoses, abuse, and spent time in jail for their "Crimes", but the end result was to make the "Crimes" a footnote in history.
Thankfully they succeeded. Interesting tho to see what side CSGV and "Gunsensus" are taking:


**UPDATE** Great Minds Think Alike!