Remember, on January 8th to light a Candle to Stop Violence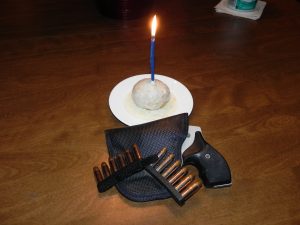 If you don't want your face in the photo or video of a candle and a carry or defensive gun is all that's needed. Here we have my very first carry gun, a S&W642 in a Desantis Nemesis pocket holster. My preferred carry reloads are a pair of Bianchi Speed Strips. While pocket carry/backup is mostly filled by Eleanor these days, I still like having a light and compact revolver to lug around.
The candle is just in a cupcake, while the Revolver is to prevent violence.
Also for the reminder, remember that images should be posted across all electronic media. Facebook, youtube, forums, everything. That being said if you don't have a blog of your own, I'd be perfectly willing to post your picture on January 8th. Just attach it to an email to weerdbeard gmail com, and make sure to include how you'd like to be addressed online, and I'll post it on January 8th with my own official picture!
Remember a candle gives off a meager light, but a personal firearm in the hands of a lawful citizen can save lives! Carry your guns, people!