This one is quite the strawman: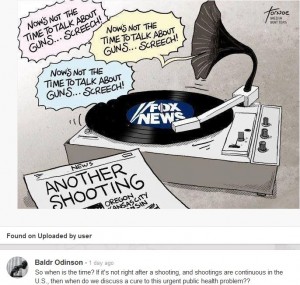 Now first up let's note that Mr. Jason "Baldr" Kilgore used to have a comment section on his blog, but since it was all pro-gun people rebutting his points, he shut it down. Same goes for most anti-gun blogs with an ounce of readership. Same goes for anti-gun lobby groups. The Brady Campaign blog used to have a comment section and they nuked it because it was mostly pro gunners rebutting their paper-thin points.
Amazing how much time anti-gunner spend trying to stifle bi-partisan discussion of gun control, while simultaneously saying that the pro-gun side refuses to talk about the issue.
Now let's get past the strawman and delve into reality. Remember that anti-gun playbook that got leaked? The order from on-high is for anti-gunner to strike while the anvil is hot, the blood is still wet, and the bodies have not yet cooled. Their attack is pure emotion and devoid of fact. When the antis want to talk is when the facts of the event are still not known. Remember when the Washington Navy Yard shooter was armed with an AR-15? Turns out his weapon was a Remington 870 shotgun, but facts aren't relevant to anti-gunners, just emotion, and when emotion is the driving factor, the story is far from reality.
Still once the dust settles, the bodies are buried or at least in a morgue, and all the facts are known, where are the antis? Suddenly they don't want to talk anymore!