Let's dive into this turd!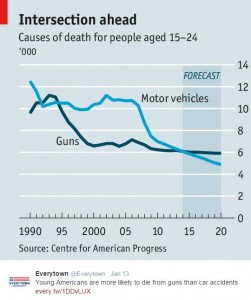 So let's first dive into the linked article:
The Economist charted the forecast for 2015 and beyond, based on an analysis of federal data by the Center for American Progress
So left-wing psudo news site Vox is reporting that left-wing "Research" firm has made an anti-gun discovery! CONFIRMATION BIAS ALERT!!!!
Still what's really interesting is the predictions made. The overall trend in the "Gun Death" graph AND the "Auto death" is a decline, but the "Prediction" for "Gun Death" is for it to stay the same, but for "Auto Death" is to continue to decline indefinitely.
What's behind this change? It's not that gun violence is getting worse. The number of deaths from car accidents is on the decline, thanks in some part to fewer drunk driving deaths. Deaths from gun violence also dropped, along with all violent crime, since the early 1990s. But gun-related deaths have failed to drop significantly further in recent years, held up by homicides, suicides, and accidents.
So our gun and violent crime rate is DOWN, and your graph says they will no longer decline, so we should ban guns!
Good job guys!