Just found this very honest review on binding up the retention mechanism of the Blackhawk! Serpa Holster.

My every-day carry holster is a Galco Miami Classic II which uses a leather thumb-break as a retention mechanism. Because this is a horizontal holster I think its a necessity, but I find it to be a quick and reliable retention method. I personally think that if you carry in a conventional belt holster you're better off relying on a well-fit holster that naturally fits your gun snugly, or is tension adjustable. This is a sign of a good holster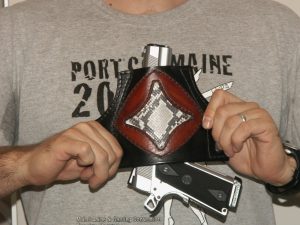 That's my Dragon Leatherworks Flat-Jack holding my heavy stainless 1911 fully inverted.
A good holster will allow a natural draw stroke, but will resist an odd pull, such as somebody from an odd angle grabbing at your gun. Also if you put your hand on the butt of the gun its NOT coming out of the holster.
Of course the last thing you want is to be in a dangerous situation with you holster locked shut.