Got an Email last night from Dragon I'll Paraphrase: "I have the 1911 I want all picked out, I gotta make a few FlatJack sales, but if I can sell 6 of them, I can buy the one I want outright."
Hey, we can make this happen and help a hard-working pro-rights entrepreneur get his first 1911. Here's my 1,000 words: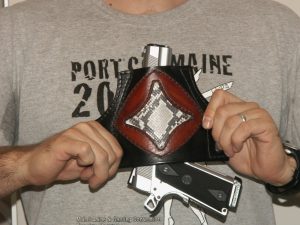 That's MY first 1911, retained in a Dragon Leatherworks Flat-jack. For a reminder and more pix, plus links to Jay's reviews, check out my review of my Flat-Jack holster.
So go over to Dragon Leatherworks and see if there's a holster that tickles your fancy. I'll tell you right now they're a high quality holster first before Dragon makes them look GORGEOUS!
Oh and for those of you who already know what the 1911 thing is all about, remember he makes 1911 holsters…and for those of you heretics, he also makes rigs for the guns of the non-believers too! 😉 (I kid!)