I've owed this story to you for a good while. Back in 2008 I read about a new Pocket pistol in .45 ACP from Kahr. I'm in love with .45 ACP, and when I don't carry in my shoulder rig, or carry a backup gun I like to drop a gun in my front pocket.
So let's have a look at the story of my Kahr PM45, that I call "Eleanor".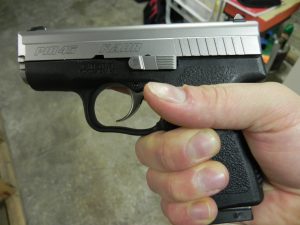 Now for those who don't know we have a bullshit system here in Mass where guns first need to be approved for "Safety". BTW some well-known guns that are "Unsafe" for Massachusetts are everything in the Glock line, as well as all handguns made by Springfield Armory or Colt. Now Colt and Springer just didn't want to play with the Attorney General's stupid games and never submitted a single unit for testing. Companies like Kahr and Glock submitted EVERYTHING they had (this was destructive testing and likely cost millions), the guns passed the safety tests…but the AG decided in his infinite wisdom that the guns were still "Unsafe" and couldn't be sold.
Ok so how does one get around this. First the law ONLY effects FFL transfers, so you can privately sell these guns all you want. (well we're allowed 4 sales per year) There is one exception, is an FFL can transfer guns that are given to you through a will estate. I didn't feel like asking one of my friends or relatives to buy one and then die…I like the gun but not that much, I needed to look at the other options. One way is to have an officer buy a gun (cops are exempted from all our bullshit laws) and then sell the gun to you. There are several cops in the state that run a racket like that. The other is to get somebody to move into state, get their LTC and then sell it.
A few years ago my Buddy Vector moved to Virginia with his wife while she was in college, and given that their family is from Maine and Mass they chose to move back. They also bought their house they moved back into. That coupled with the fact that DC traffic is ALWAYS horrible, and there are no gun shops in the Arlington area he knew about. It was a bother for him I didn't press the issue. I was a big chagrined, but it later turned out the state never cancelled his permit so there would have been some bizarre legal issues.
So that opportunity was missed, then Christina decided to move to Mass. Stupid move, and after I attempted to talk her out of it, I talked her into buying a PM45. BTW the gun was bought online from US Citizen's FFL "Well Regulated Millita"
Then Christina Moved to Mass. Got settled in and got her LTC, and given that she didn't really like the gun, she sold it to me, which we had to do through the state police. Used to be we had to do it on paper forms and send them out in the mail. Now its online which is better…if you ignore all the infringements of the 2nd Amendment.
So yeah, that's what it took for me to get this one gun. What a pain in the HOLE this was. The Gun was built about an hour west of me in Worcester Mass, then shipped to Traction Control's place (where's he located BTW?**UPDATE** He's in Texas also, thanks Kevin) then to Texas, then driven in a car up to Massachusetts.
There's one thing about my Westinghouse M1891 was made in Mass, went to Russia and goodness knows where, only to now be living in a gun safe back in Massachusetts as the crown jewel of my collection (I need to do a better post on that rifle). This gun pranced around the country not because it needed to, I'd just as soon drive over to the Worcester factory and swipe my credit card and bring it home, but no, it had to be difficult.
Still I will say, all that PITA, it was WORTH IT, I love this gun, and its EXACTLY what I wanted for a light carry/Backup gun.