I said here I was going to get a new shirt from the very kickass ENDO Mike
It shipped SCARY fast, and here it is.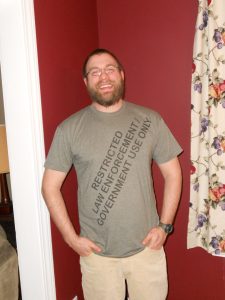 Love the color, love the nature of the image. I had to explain to the wife that this was the stamp required by federal law to be placed on any "post ban" magazines holding more than 10 rounds. (there's an image here…BTW Wally and I were talking the other day about how ban-compliant Glock magazines are shimmed to make them a lop-sided single-stack! How fucked-up is that? I know some companies would just put a crimp in the mag body just below where the follower sits on round #10…I know Canadian M-14 mags there's a protrusion on the follower that bottoms out on the floorplate when the 10th round is seated.)
I got all sorts of "Preachy" shirts like my Gunwalker shirt that I haven't gotten a chance to wear yet, but will soon, but its nice to have shirts like EDNO makes just so you can send your gunnie political message without scaring the sheep. Also wearing a shirt like this, if you get a smile and a nod, you might notice that person has a bulge at their 4:00 position.
We're everywhere, and they have no idea..
Mike also sent me an email about a new shirt coming out soon, so stay tuned, his only hint on the design was that "I think you'll really like it"…that's a pretty small gamble, Mike. 🙂
So again like the M16 selector shirt this thing is CRAZY soft, and after over a dozen washes it still looks brand new. Also I never remember what size X shirt is, I generally wear L to XL, but with size variations some Large shirts run a bit small on me, and some XL shirts are like tents. This one is the Large and fits PERFECTLY.
Did I mention they're super soft? Order one today, your nipples will thank you! 🙂