Screw the Gun show or the local shop where the clerks wear camo and open carry, and the shop sells MREs and water purification tablets. Roadkill saw this at Wal Mart!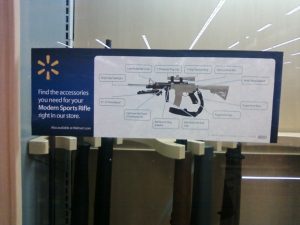 Some questioned the validity of calling AR-15s and other modern self-loading rifle "Modern Sports Rifles", but its hard to argue that the AR-15 isn't all of that. They are well known for their accuracy, making them great for target shooting for both fun and competition. They can be easily accessorized and modified with different stocks, barrel lengths and calibers, and with collapsible stocks and lightweight construction they are ideal guns for hunting and varmint control. Of course the fact that they are ideal for personal defense is just gravy!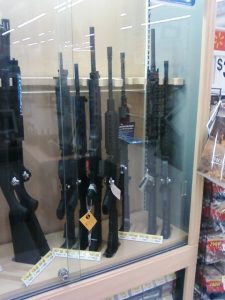 Hilarious that the antis are still claiming they're no good for sporting….not that the second Amendment had anything to do with that. We all know George Washington didn't cross the Delaware River to get to his duck blind!
Nice find Roadkill!