So I went and did something interesting. I bought a set of tiny cocktail glasses!
Why would I do such a thing? FLIGHTS!
What is a flight? In bartending talk a flight is a bunch of small servings in lieu of one full-size one. This could be a row of small shot glasses, some tiny pony cups of beer, or some miniature cocktails.
Why do that? Well they don't all have the same stuff in them! Think of it as Tapas Dining for your drink! You can have a few tiny drinks instead of one big drink…..or a few big drinks and be totally inebriated. better yet if you have a lot of drinks in your repertoire, and have started thinking of mixology on a conceptual level, you can make a flight of drinks a composition in its own light!
Let me show you some of the drinks I've made!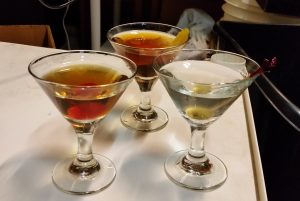 So there you have up front a Manhattan, a Dry Martini , and behind them the Martinez which if watch the linked video, can be argued is a common ancestor of both. Drinking them together can let you see things differently than drinking them separately. And with little glasses you get the proper look and feel of a full-size drink, but you can toss back three of them and not be much worse off than having just one.
Also for these a good Jigger is a must, as making a tiny drink means lots of little measurements.
Also if you ever were classically trained in music, one of the ways you could show your true skill is to play a fast song at a very slow tempo. (When all the notes are sustained, any mistake becomes glaring) this is also a cool way to show off your mixing skills. If you can scale down a drink, and make it taste as good as a big drink, you have precision as a mixer!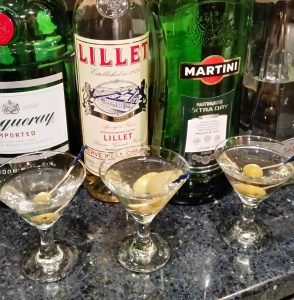 Here's more of a James Bond theme. Granted I don't really much care for Bond's taste in Martini. All of these drinks are stirred, they are from left-to-right a Dry Martini, a Vesper which I developed from the text of Casino Royal, and a Vodka Martini, tho since I don't do vodka martinis, this one is made with black pepper flavored vodka for some more character.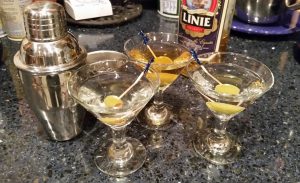 OK I like Martinis! These are all super dry drinks. The Dry Martini (Can you tell what my all-time favorite cocktail is?), a "Taquini" (Awesome, somebody besides me is talking about this) and a Cocktail I don't think there is a name for, which is Dry Sherry, and Aquavit. This trio is very much for your savory pallet.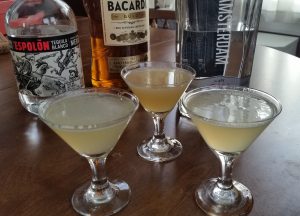 No martinis here! This one is all very similar drinks but with some minor changes. A Gimlet a Margarita and a Daiquiri , They are generally the same drink, just using Gin, Tequila, and Rum with simple syrup and lime. Of course I substituted the syrup for St Elder liqueur in the Gimlet and Margarita, and Orgeat in the Daiquiri, and Lavender Bitters, Celery Bitters, and Orange Bitter respectively.
This was surprisingly interesting in how strongly they can be different, yet so the same.
Last was something that looked really pretty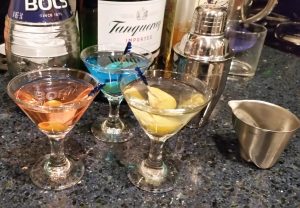 More martinis, but these have a little color to them. The Pinkish is a New Orleans Dry Martini, which is simply a dry martini with some Peychaud's Bitters and a dash of absinthe (tho I use Pernod), the Yellow Green, and Blue are the same drink, but with one substitution. Both are 3 parts gin 1 part Lillet Blanc and one part either blue Curacao, or Green Chartreuse.
These glasses also make a great way to mix a drink to a novice who doesn't exactly know what they like. The Libby brand glasses I bought are both reasonably priced, and very good quality!