While I'm a big caliber guy, and I love the new breed of subcompact and pocketable automatics in 9x19mm or greater, I have a soft spot for those micro-guns of yesteryear in the miniscule cartridges of .22 LR, .25 ACP, and .32 ACP (and to some extent .380 Auto).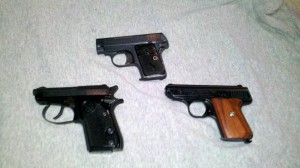 (Sorry for the crappy Cellphone camera shots. I have a line on a new Camera, and just need buy the damn thing)
I have such conflicting feelings with these guns. These guns are 100% defensive arms. They aren't built for target shooting, and they aren't in major hunting calibers. They are built to be small, light, and easy to carry. Until you get to VERY modern guns these are in VERY light calibers.
These guns are relics of the past, just like a .303 Enfield can be still used to fend off attackers, frankly technology has made some very impressive guns that do the job that the SMLE was originally built to do, better. Same goes for these little micro-pistols. You can find a safer, better, lighter, and easier shoot gun than these, at about the same size and weight in .380 ACP or 9×19.
Still its not like these are BAD guns, and I love what they represent. The gun in the top middle is a Colt Vest Pocket that was made in Hartford Connecticut in 1917. Its a microscopic gun in a microscopic caliber (.25 ACP) but it shows that even in "more civil times", and not just out in the "Wild West" but in the big cities Back East people wanted a small light gun they could carrying around with not much burden.
This little Colt is a fine swiss watch of sorts. It runs like a champ and feels good in the hand. The ergonomics aren't quite of M1911 levels, but John Browning knew his stuff. Still the cartridge is VERY weak, but quite expensive. Still if you FEEL the need to carry a small gun in .22 or .25 ACP, .25 might be a better choice as Centerfire rounds tend to hold up a little better when it comes to reliability.
The Lower Right was a surrogate for the Colt, still a small gun (tho not as much) but in .22 LR. This is my Jennings J-22. Its a mostly-zinc "Potmetal" gun made to be an inexpensive gun for people who couldn't afford a larger, more complicated gun, but still had the need to defend themselves. Its actually a surprisingly good gun (but then again I set the bar low) its surprisingly easy to shoot accurately as it has much larger sights than most guns of its size, and a barrel with micro-rifling that seems to do a good job at keeping the bullets stable in flight.
It is NOT a reliable gun. As a rule I find that you can get through about 50 rounds with only a few jams…then afterwards you're going to spend more time clearing jams than shooting.
So let's talk about the lower Left. I have a friend who got me hooked on Mouse guns (he actually sold me the Colt), in his private collection he has a Beretta 21A in .25 ACP. I got a chance to handle it, and I was impressed with the elegance of the design, I decided if a variant in .22 LR became available to me (these guns are not Massachusetts approved, so they are rare in-state) I'd grab one.
Well one became available. I almost didn't get it, but I couldn't stop thinking about it, and its rarity, as well as what good condition it was in. I decided to get it the next day (and somebody came in looking for it while I was doing the paperwork).
Its a neat gun indeed. The big thing is it features a tip-up barrel and an action that does not have an extractor.


To load this gun you simply flip the lever (which is situated in a similar location to a slide lock or a take-down lever) which released the barrel (which pops up under spring tension), insert a loaded magazine, the insert a cartridge directly into the chamber. The same to clear the gun you simply drop the magazine and flip up the barrel.
Never once in the standard operation of this gun do you need to rack the slide. That's just cool!
I said the gun doesn't have any extractors, which is what allows you to drop rounds directly into the chamber (it is ill-advised to do this in a conventional pistol because it forced the extractor to crash into the cartridge rim and jump over the rim. This can stress your extractor and cause it to eventually break, also it might cause a rim-fire cartridge to discharge) Instead the cartridge is ejection simply from gas pressure inside the barrel.
This "jet fire" ejection has been said can cause the gun to be less reliable. Overall I find .22 LR pistols to be more unreliable than centerfire cartridges in the first place. Still I was using mostly Federal American Eagle supersonic ammunition at the range today and it wasn't until the gun had eaten a little over 100 rounds that it started showing signs or decreased reliability.
The sights are of the microscopic type of these old-style pocket pistols. The rear sight is simply a raised hump with a notch ground into it at the back of the slide. The front sight is a short skinny blade at the muzzle. My Colt .25's sights are practically unuseable, I expected the Beretta sights to be the same. They weren't. They weren't as easy as my carry guns with their big sight blocks, but I actually found I could put sights on target without too much difficulty, even against a black target.
The gun is DA/SA, the hammer and trigger can be manipulated with the barrel tipped up, so the hammer can be decocked before the gun is loaded. The hammer also features a half-cock notch for added drop-safety. The gun also has an inertial firing pin.
The SA trigger pull is as nice as anything you could expect. No slack, no over-travel, and a clean break. The DA pull is clean until you get to the sear when there is quick stack in pull pressure before the trigger breaks cleanly. This isn't so bad that it pulls your shot low, but it isn't as pretty as it could be.
At the range until it started getting gummed up I couldn't put it down. IT IS SO FUN TO SHOOT! I'm glad I got it.
Cleaning, is a joy too.

Just pop the barrel up, cock the hammer, and pull the slide back slightly to pop it off the leaf springs that serve as the recoil spring, then lift the slide off the frame. Its an open-top slide like most Berettas, so its VERY easy to clean. To put the gun back together you just drop the slide back on the frame and then click the barrel back in place and function-test.
So a VERY cool gun. They're easy to get in free America, and I recommend them to anybody interested in an inexpensive and fun gun for range use, or as a backup gun. I wouldn't recommend this as a primary carry because .22LR and .25 ACP is a very weak round…still if this is all you can or want to shoot, its better than a sharp stick.