So I got some new toys today, so I decided to take a family portrait per-se.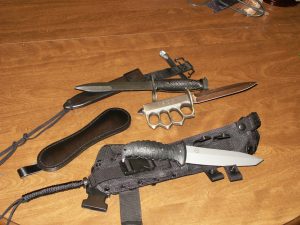 A neat collection, ne? I'll start at the top is what I belive is an Ontario M7 Bayonet. I started with it because its the most useful blade in the photo…and that's only because it fits my Mossberg 590. Its also a well-made knife. Nothing fancy, but its the real-deal.
Now to the bottom is my CRKT Ultima (Link from Knifecenter.com where I bought this knife, I highly recommend them for both prices and service), I picked this one to talk about next because in the picture this is the highest-quality knife in the picture. This is a REALLY impressive knife. A nice heavy blade with a serious edge on it, great lines on the knife, and the tang is MONSTEROUS. The handle is AMAZING on this knife, its designed for you to grip it and hold onto it until you chose to release it. Its not the most comfortable handle in the world, but that's only when you attempt to make the knife slip…as in if the knife starts to slip from your grasp it will bite into your hand until you regain your purchase. Oh and the butt of the tang is a pry bar! How cool is that?
Above the Ultima is a replica WWI Trench Knife and a leather sap.
Now both of these items are BEYOND worthless. First like the others they are too big to carry outside my home legally (never mind that I carry a damn .45 outside my home legally all the damn time), the blackjack has its own prohibition laws, and the Trench knife also has a handle that is a set of brass knuckles. Can I do more damage with any of these than my 1911? Fuck no! Does the law care? Yeah, you know the drill.
Why did I get these? Well mostly because I can. But broken down from that:
I wanted a bayonet to fit my shotgun that had a bayonet lug…in fact I bought my 590 SPECIFICALLY because it had a bayonet lug.
I've been eying high-quality combat-survival knives for a while, and I was just biding my time. Happens to be knifecenter put the Ultima on sale, so I grabbed it.
Its a fucking TRENCH KNIFE! A double-edged blade attached to some brass knuckles with a tang stub that can be used for a skull punch? KICK ASS! Now I know that I will NEVER use this knife for anything than a paper weight or a letter opener, so I got a cheap chicom knock-off. The blade has a lousy edge, and likely won't be able to hold much more than that, and its likely wall-hanger quality steel. Who cares? I think it's cool!
It's a Fucking SAP! I've always wanted a blackjack. Its the original less-lethal force implement, also in pop culture its the main weapon in the Thief Video Game series which I'm a huge fan, also I'm a fan of Raymond Chandler novels, and it seems that Private Eye, Philip Marlowe is a damned Sap-Magnet, attracting saps even for neighboring counties to beat him down and leave his bloody…and he'll heal his wounds with cigarettes and whiskey, and kill the bastard to whumped him! LOVE IT!
This sap is kinda neat. First the leather is VERY cheap and the stitching sucks, but just out of curiosity I have a 2×4 piece of pine down in the armory, I set the board down and pounded the snot out of it with the sap. The sap held, and the board now has some subtle dents in it….and my hand felt great, so its functional. Maybe it wouldn't last a lifetime of hard use…but it'll never get there.
Got them because I could, and I enjoy them. I have almost zero use for all of them….the biggest shame is the Ultima which is a rock-solid knife…but what will I do with it?
I also happen to have some wall-hanger swords too, you just accumulate such things in life's travels.
I don't see anything wrong with that!