We talked about the Zimmerman Florida Shooting here, Sebastian has his insights here.
There's a LOT of grey here. I will say that whether this is a justified shooting, or murder or manslaughter, it DOES look strongly that the shooting could have been avoided.
Thirdpower is noticing the direction the antis are taking this story, I'm starting to notice things are looking VERY scary.
Have a look at the video in this story. The antis are talking about Zimmerman being "Protected" by Florida's Stand-your-ground law, except he isn't, he's currently under investigation, and for the time being he has yet to be charged with a crime. That may change, and he may end up being charged with murder and with a conviction spending a LOT of time in prison. That isn't "Protection" that's due process.
But things are REALLY getting ugly in the CSGV twitter feed. As I type Ladd Everett of CSGV is currently tweeting his propaganda at ANYBODY on twitter who speaks about this case, specifically calling Mr. Zimmerman a "Stalker". That's interesting given that a "Stalker" is EXACTLY what Mr. Everett is. So much he got the CSGV twitter account suspended for stalking bloggers who disagreed with him, and this is behavior Mr. Everett continues by posting personal information about people he hates.
Now have a look at this: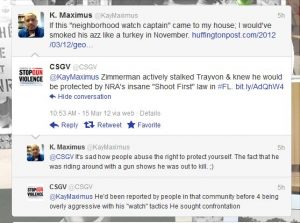 "I would've smoked his azz like a turkey in November"? Does that sound like a murder threat to you? Note even in the worse case Mr. Zimmerman murdered this young man, and they're calling for eye-for-an-eye, murder-for-murder, rather than due process. Does Ladd do the responsible thing and try to inject reason into this bloodthirsty frenzy? No he eggs them on.
Now have a look at this? I've redacted information to protect Mr. Zimmerman from unlawful retaliation: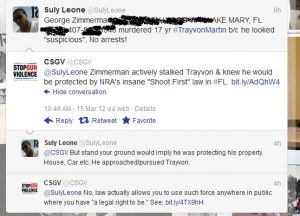 So we have people posting murder threats, and people posting Mr. Zimmerman's Address in Florida. And Ladd Everett is cheering them on.
This is looking scarier and scarier every time I look. I hope this horrible pressure cooker doesn't explode.
From the looks of it CSGV is rooting them on and encouraging vigilante justice.
Let's hope it doesn't happen.
**UPDATE** From the Linked article:
The Sanford neighborhood watch volunteer who shot and killed Trayvon Martin, an unarmed black teenager, did not instigate the encounter, but has received death threats and moved out of his home, his father told the Orlando Sentinel today.
So his address is out there, but he's not there….I'm comforted that he's taking actions for his safety, and horribly saddened that he needed to do this.