So Ladd Everit of CSGV has attempted to earn his Joyce Foundation pay by spamming various left-wing newsies with his pet issues. Particularly with the Starbucks "Buycott" and just how "Scary" and "Disrespectful" gunnies are for posting pictures of people with guns and coffee. (No word on the people who take pictures of their apple computers and coffee, or their New Prius and Coffee, or their designer handbag and coffee…people enjoy things, coffee is one of those things, *yawn*)
Of course Ladd's getting ignored because even he's seen as a little bit touched in the noggin by Moonbats like Bill Maher, Cenk Uygur, Keith Olbermann, and Rachel Maddow.
Still the latest beg: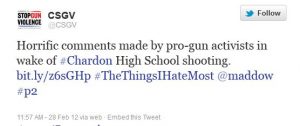 He references one of his unread blog posts, that links to my Blood Dancing 101 post (BTW they send ZERO traffic. I've caught THREE hits to that post from there, and even then I'm not sure if its Antis or Gunnies checking the links).
First up, even more Honesty, in that I'm directly referenced by "#TheThingsIHateMost" (Good thing I have lots of guns in case Ladd decides to act out his dark little fantasies)
Still I get thinking on my own. What if I become a subject of a Lefty Two Minutes Hate? Wouldn't that be delicious?
Plus if it was Maddow, a woman, and an open Homosexual (two demographics commonly targeted for violent crime), who also has the typical Limousine Liberal attitude about guns

Its OK when she enjoys them, just not me. And of course they're "Just a Game", Rachel takes a car home across New York City, meanwhile Rachel in another life could be the poor artist Lesbian living in a cheap loft apartment in Harlem and needing to take the subway, a bus, and walk a few blocks to get two-and-from her job every day.
Of course New York has lots of gun control so its totally safe!
Of course now if she DOES decide to hate on me, she'll read this and see my trump card, and now she'll NEVER call! 8)