I first raised the idea here, Today the antis will be doing their best to light candles to "Stop Gun Violence". First up I take offense to the term "Gun Violence" as it ignores so much violence for the sake of pure politics, and second, what does a candle do by itself?
So I called for those of us who believe in tools of self-defense and who care about stopping all violence to also light a candle and snap a picture showing what tools you have to back up your desire to prevent violence.
The turn out is HUMBLING! I've already seen a ton of submissions and pages up, as well as heard the pledges of many who said they'll join me today. Because of the extent of the submissions You'll need to click on the page break. So without further ado, Let us light a candle to prevent violence!


My S&W1911Sc in my Galco Sholder Holster and my Very awesome FAL which is the first thing I'll reach for if things get REALLY ugly.

I'd like to first lead with a photo sent from Tornado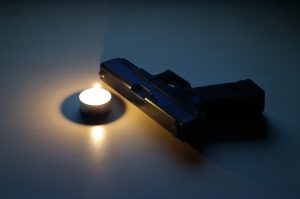 His message really put a smile on my face: "Small contribution from the Czech Republic. We are, too, a CCW shall-issue country :)" He's right, I was unaware they had such reasonable laws for Europe.
Next a Few From Wally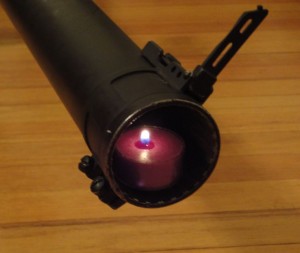 Light a Candle to Prevent Tank violence!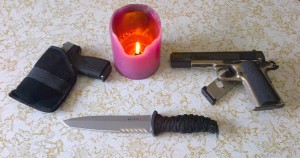 You may be seeing double (But its a Combo Edge Ultima, a Kahr in 9mm, and a M1911 in .38 Super)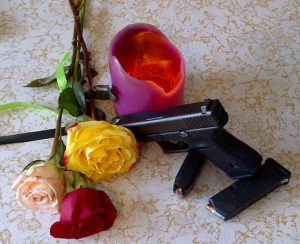 Next from CheifJayBob a lovely 1911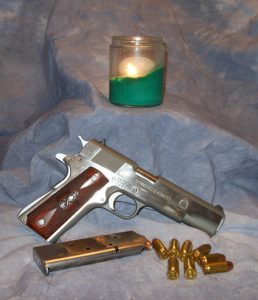 I wish I knew more about these classic guns from Emac.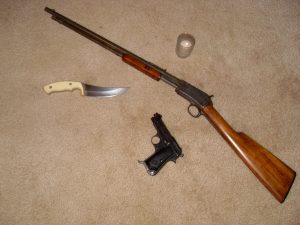 From Rob Halvorson a VERY nice S&W619 7-shot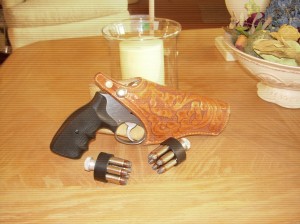 From Bubblehead Less our roving News Correspondent.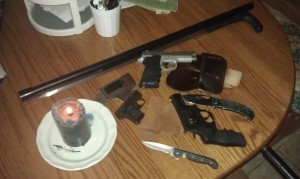 here's the breakdown. The EDC gun is my Smith 4043 in .40S+W, and it's riding one of Dennis's Dragonleatherworks Fugly IWBs. The Baby Browning is in an old Allesi Talon IWB, and that's for Uber Discreet carry and/or Back Up. Yeah, yeah, I know .25ACP, but it beats a Sharp Stick. The Dan Wesson .357 has the 2″ Barrel on it, and it's riding in a Galco Pro I had to modify. But that is the weapon I use when I have to let the Dogs out in the middle of the Night, or if it's really Snowing Bad, it goes into my Parka. Sometimes, you HAVE to shoot wearing Gloves, and the Dan Wesson has a big enough Trigger Guard. Spare Speedloaders are available, of course.

As for the knives, the smaller one is my CRKT M-16 that I ground the serrations off. That's mostly my 3 Season Knife. The K-Bar Zilla is my Winter Blade, 'cause I can open it with gloves on. And the Cold Steel Sword Cane is for my Bad Knees, and those places were "No Guns Are Allowed," like the Tilt-N-Kilt in Pittsburgh. Hey, I DO have a Sharp Stick!
And a neat one from Maura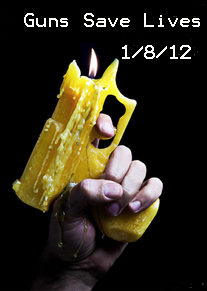 I want to know how she did that!
And Wallphone with a warm and moody pic! I LIKE it!

And one from Tommy bringing more love for the J-frames!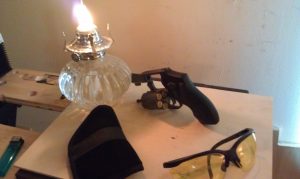 Now links to other blogs who've already put pictures up in no particular order.
Jay who says he'll have more up today
North with a great use of color. I really dig that shot!
Erin With her go-to Long-guns.
Jeffersonian gets his Gadsden On
McThag has already posted three, keep your eyes peeled for more, and go DROOL at that Colt Anaconda in .45 Colt!
Bryan Strawser has good tastes.
Jack continues the trend of pairing 1911s and Kahrs
KniteBane with a nice assortment
Shy Wolf with Flag and Pow-r-ball
Lokidude brings the Plastic and Steel
A Girl and Her Gun and her candle!
THOT PD does the Bayonet Thing!
Maddmedic Was on the scene early too
Miguel has a similar thread up at "Gun Free Zone"
That in NO way is all the vigils held throughout the country, and I don't expect to to keep up with all of them. So if you put up a picture on your blog, or see one that isn't mentioned here post it down in the comments. Also this is in NO way limited to blogs, I know we have several forums participating as well as facebook. Also SOMEBODY has got to have a youtube video for today!
Watch the comment for updates, and of course I'll be watching The Blacklist like a hawk!
And I think I'll close with a quote from North who has been supporting the vigil and the community in general with the Gun Blog Blacklist
Please defend yourself with something more than hot wax.
Carry your guns people, you just might need them. And always be safe because you are the good guy!
Thanks again all for your participation!